Interior space for industrial buildings
The great benefit of steel buildings for industrial use is the availability of internal space. All of the interior space is available which allows for high ceilings for tall machinery, big floor space for production lines and good light and access.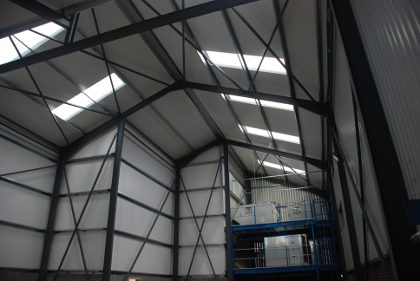 If you're constructing and new building for industrial purposes steel buildings tick all the boxes. The interior space can be arranged to suit your production and storage requirements with a large open shopfloor, to enable machinery or production lines to be installed without trying to work a way around interior columns or walls. The roof can included skylights to allow natural light in and the walls can be configured for exhaust or other pipework to enter or exit the building easily.
More importantly, the building can be designed for easy and secure access with large roller doors for large material deliveries or the despatch of larger finished goods, while also having smaller personal access doors and security.
And health and safety and interior working conditions also need to be taken into consideration. Steel-framed buildings provide reliable, strong secured buildings that are easy to maintain, can be finished in a number of colours and styles and can include insultation, ducting and even interior offices and mezzanine floors.