Car Showroom Builders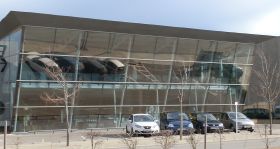 For car sales the type and quality of the premises and showroom is extremely important in order to make the right impression on prospective buyers - a good quality building helps leave the impression of a good quality company. Steel buildings provide the perfect mix of light and space to show off vehicles for sale. Incorporating glass fronts and display windows is easy as the weight of a steel building is carried on the frame, not on the walls allowing for large glass showrooms. The steel building can also be customised in different colours to allow your premises to stand out from the crowd.
Features like roller doors or high ceilings and office space are easily incorporated as is workshop or garage space. A showroom made with a steel frame, steel panels and glass, gives the best balance of space, practicability and maintainability and cost while presenting a high quality professional image to customers.
Car showrooms can also be built in conjunction with MOT and service bays, or include valet bays for additional customer services. And don't forget to plan on reducing your running costs by including solar power when you build.