Agricultural Steel Buildings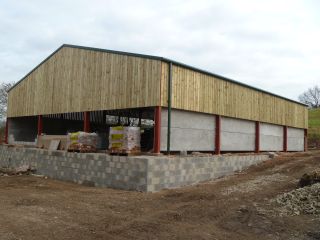 On a farm, steel buildings are ideal for agricultural use due to their flexibility, weather resistence and cost per square metre and are often found being used a barn, or adding secure storage, or animal housing, or dairies and milking areas, or even workshops or farmshops. A new agricultural steel building makes a cost-effective long-term investment to replace damaged or decaying barns or hay stores or to help with packing or keep produce out of the weather.
Steel buildings come in all shapes and sizes and can be designed and constructed to fit exactly within the space available. Some farms may want small working units or even small sheds. Other farms, need large storage areas for machinery and seed. We can work with the space and layout that you have available to give you the facility you need.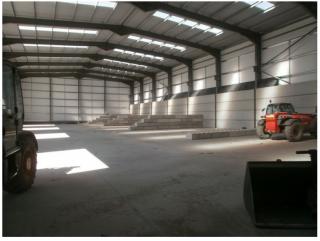 For instance, when designing a new building, where it will fit and how it will be used will affect aspects of the building such as the type and placement of doors - do you need large roller doors for vehicle access for instance? And what about interior lighting? Will skylights be sufficient or do you require windows to increase natural light? If it's an area where people are working such as a farm shop or packaging area, then a double skin insulated steel building can be a cost effective alternative to a traditional brick build. If the roof faces south then solar panels might be an option. We can help work out the best option precisely for your needs.

Steel buildings are extremely popular on farms and for agricultural use, providing an easy, low maintenance building at a low cost. Most farms will have some form of steel-framed building for storage, or as garaging for farm machinery. But steel buildings can also be used for workshops and animals too. When we talk to farmer and farm managers they tell us agricultural steel buildings also have the following additional benefits:

Steel-built combination barn and storage built with a steel-frame, but with a combination wood and panel walls showing how the combination of materials can be used to create a more aesthetically interesting farm building than a conventional steel shed.

Farms come in all shapes and sizes and buildings have to be able to adapt to suit. Getting the right building is part of the root. It's also important to get constructors who can make the building happen.