Materials and options
The basic steel frame of your steel building can be used with different wall coverings, doors, windows depending on use. For instance whether you require insulation, fire resistance, where and what type of doors are required and where, if at all, you want windows and skylights.
Wall covering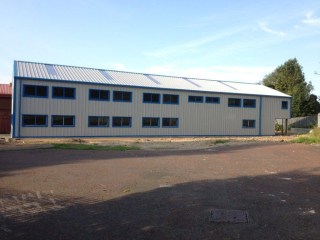 Most steel-framed buildings also use a steel cladding. The cladding is made of steel sheet and pre-coated in the colour of your choice on the outside (the coating is applied at the time the panel is manufactured with a proper chemical bond - it's not paint). The internal side of the skin can then have one of several types of additional finish depending on requirements:
No extra finishing (plain) for the most basic structures
Anti-condensation for sealed and unheated structures
Thermal insulation in 25mm or 50mm for workspaces
Fire resistant panels, also for workspaces
Buildings can also be double skinned or have built in ventilation (eg for agricultural use). Most of the time steel panels are used, partly for reasons of cost, but the frame can also be clad or in-filled in other materials. Naturally this tends to be more expensive than a simple steel skin.
Roofing sections
Roofing can come in coated steel panels similar to the walls, or in other materials such as corrugated metal sheet, galvanised steel, metal slates and can include flashing, gutters and water channels.
Doors
Roller doors can be fitted almost anywhere on the building and to any size required. The roller mechanism means there is no 'opening' area required - the door just goes up and down. Roller doors can be either manual or automatic. Our general recommendation is that for larger doors, automatic systems are easier and more convenient.