Reskinning and refurbishing
Steel cladding is a popular method for revitalising older buildings and can be used to solve maintenance issues that occur on buildings from the 1960s and 1970s.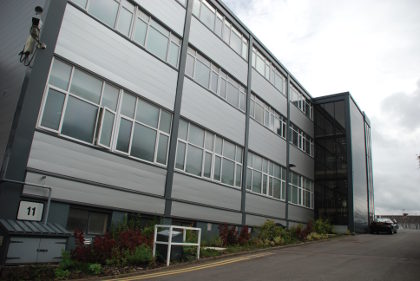 This 1960s office complex was reclad with steel panels providing a contemporary look, but more importantly protecting failing brickwork behind the cladding from water damage and general disrepair.
The cladding is fixed to the building on a steel-frame and can be provided in a number of colours and styles. As with standard steel cladding for steel buildings, the colour is coated during manufacture and so does not require painting. At the same time that the cladding was replaced, the windows were also swapped from single to double glazed.
For single-skin buildings, this can also be an effective method of adding wall insultation to reduce energy costs. If you add solar panels, this can be an effective method of making an older building or warehouse much greener and more energy efficient.