Garages for professionals
For professional motor technicians the space and building you work in is important for the quality of the work and the impression it leaves with the customer. Clean, bright interior spaces with a new steel building workshop leave the best impression and keep employees happy.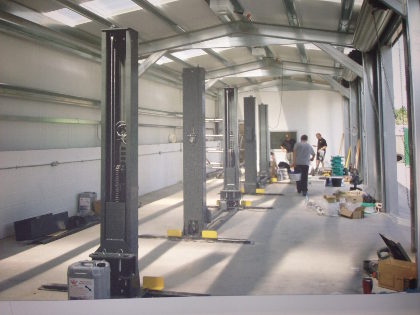 Many garage and motor-workshops are in steel buildings, often in sheds on the outskirts of towns. But steel sheds don't need to be dowdy. Modern steel buildings should include roof skylights and windows to maximise the interior light and can be finished with professional workshop areas and office space, or exterior canopies and porches.
This workshop is being finished and prepared as an MOT station with roller doors for each of the bays (no need to negotiate interior space with vehicles) and so has good light.