Benefits of steel-built commercial workshops
Commercial workshops are used by a variety of trades and professions from crafts like joinery, carpentry or metalworking to high tech service and repair centres. For most small businesses costs are a strong consideration and a metal-built workshop is one of the most cost-effective buildings.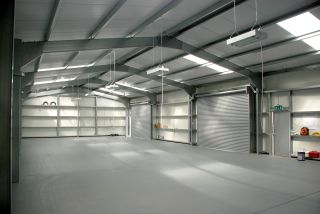 Steel workshops are a low cost solution that provides a secure location for tools, parts and materials
The building gives the maximum interior work area for a given floorspace and so can be fitted out with benches, tools, finishing areas and stock areas as required
The steel cladding comes in a range of colours and because of the nature of the coating it's low maintenance - no repainting or anti-corrosion treatment needed - it's built in
Windows can be placed on any of the wall and skylights added to the roof bringing light into the building as required
Roller doors can be added for ease of access with separate personal access doors
As a work area you will need to look at insulation and double skinned walls and fire-rated panels to provide a safe secure workspace
As can be seen in the picture, the steel frame of the workshop means the maximum amount of floor space, particularly with shelving on the walls. And by using skylights, instead of windows on the wall interior light is maximised without limiting the space available for interior fittings. Note that this building included two full-size interior roller doors.